Hotel Management
Hilly Adler
General Manager
Hilton Garden Inn-Cedar Falls, IA
Hilly has been in the hotel business for over 28 years. He started at an independent resort hotel and has worked his way up to General Manager, Regional Manager, and Hotel Vice President. He has worked at Hilton franchised properties since 2002. Hilly has mentored many hoteliers and has decided to join the ChrisBro team to continue his mentoring skills with an exciting team. Hilly has knowledge of operations, sales, revenue management where he has lead hotels as large as 650 rooms and banquet space that can accommodate up to 1000 people. He has worked with such large events as the NHL, MLB, Microsoft, Volkswagen, the list goes on. He has worked in markets from NYC, Philadelphia, Kentucky, Chicago, Fort Lauderdale, and Orlando Fl.
In Hilly's free time, he likes to attend sporting events and try out new and local restaurants with his wife Ellyn.
Jami Battochio
General Manager
Hampton Inn & Suites/Tru Rushmore Rapid City, SD
Jami grew up in rural South Dakota. Currently, she is blessed to call the beautiful Black Hills home with her husband and 3 boys ages 15, 6 and 4. She has worked in different leadership roles in hospitality, gaming, marketing and customer service over the past 15 years. Jami enjoys a fun-loving work culture where familial bonds are created while still ensuring the tasks at hand are accomplished successfully. She is an authentic, passionate and goal driven person.
One of her favorite quotes is "If you don't have time to do it right, when will you have time to do it over?" – John Wooden. She maintains simple beliefs regarding team culture and interactions. Respect all. Treat people how you want to be treated. Show up and support one another while maintaining a positive mindset. Jami would consider her greatest accomplishments being able to see past and present team members grow into strong, thriving leaders in the industry and community after being able to help mentor and support them along the way. "A good teacher is like a candle – it consumes itself to light the way for others."
In what spare time she has in the summer, you will find her at Pactola and outdoors as much as possible. In the winter months she spends time with her family at the ice rinks. If you ask her what goes best with a cup of coffee, she will say another cup. 😊 She is a huge foodie- tacos and a margarita or a steak with red wine can cure most anything.
Cayenne Adams
General Manager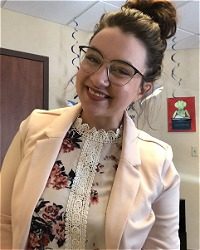 Hampton Inn by Hilton Waterloo, IA
Cayenne Adams is the General Manager of the Hampton Inn by Hilton Waterloo, IA. Cayenne was born and raised in the Cedar Valley and graduated from Waterloo West High in 2010.
Cayenne started out with ChrisBro as a housekeeper in 2012 and fell in love with the hospitality industry and worked her way up to Executive Housekeeper, Assistant General Manager, and eventually became the General Manager in 2022. Cayenne is hands-on and enjoys working alongside her team to keep things moving forward. Cayenne has always set her goals and standards high, in both her professional and personal life. Cayenne's life motto is "NEVER SETTLE." She is determined to achieve the highest standards not only in the Cedar Valley, but for the ChrisBro portfolio as well.
In her free time, Cayenne enjoys spending time with her 3 children, cooking, baking, reading, and traveling as often as she can.
Jerica Lemme
General Manager
Hampton Inn by Hilton Rapid City, SD
Jerica was born and raised in Northern Minnesota. She moved out to the Black Hills of Rapid City South Dakota in 1993 and cannot imagine a more beautiful place to call home. Jerica has played many roles in the hospitality industry from starting as a front desk agent, front office supervisor, sales and meeting coordinator, event planner, all the way up to General Manager.
Jerica has worked in customer service and hospitality for the last 22 years. She loves what she does and can't imagine doing anything else.
Jerica's favorite thing to do at work is to talk and laugh with the guests that she encounters on a daily basis. You see people from all over the country and from all walks of like. Each person you meet leaves a little mark on you, usually for the better.
In their free time, Jerica and her husband love to travel, whether a quick getaway with their dog, or a nice vacation to spend with family is how some of her favorite time is spent. She also loves exploring the Black Hills, as we have the best back yard playground right at our fingertips.