Hotel Management
Hilly Adler
General Manager
Hilton Garden Inn-Cedar Falls, IA
Hilly has been in the hotel business for over 28 years. He started at an independent resort hotel and has worked his way up to General Manager, Regional Manager, and Hotel Vice President. He has worked at Hilton franchised properties since 2002. Hilly has mentored many hoteliers and has decided to join the ChrisBro team to continue his mentoring skills with an exciting team. Hilly has knowledge of operations, sales, revenue management where he has lead hotels as large as 650 rooms and banquet space that can accommodate up to 1000 people. He has worked with such large events as the NHL, MLB, Microsoft, Volkswagen, the list goes on. He has worked in markets from NYC, Philadelphia, Kentucky, Chicago, Fort Lauderdale, and Orlando Fl.
In Hilly's free time, he likes to attend sporting events and try out new and local restaurants with his wife Ellyn.
Ezra Campbell
General Manager
Microtel Inn & Suites by Wyndham, Rapid City, SD
Ezra is the General Manager of the Microtel Inn and Suites, Rapid City, South Dakota. He grew up in southern Minnesota and is a graduate of Augustana College in Sioux Falls, SD.
Ezra has been involved with ChrisBro and the hospitality industry since 2020 when he got his start as the Front Office Manager for the Tru by Hilton Rapid City Rushmore. He was promoted to General Manager in August 2021 of the first hotel ChrisBro opened in 2000. Working through the difficulties of a global pandemic, Ezra has shown an aptitude for managing his small team and focusing on building a new image for his property. Hospitality seems to be a great fit for Ezra, and it shows through his willingness to learn and adaptability to move between any position his property needs.
In his spare time, Ezra is an avid hiker and enjoys spending time exploring the Black Hills with his wonderful girlfriend, Michaela and their goofy dog, Naughty.
Cayenne Adams
General Manager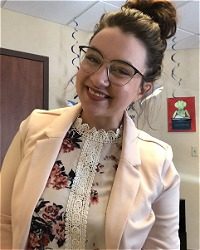 Hampton Inn by Hilton Waterloo, IA
Cayenne Adams is the General Manager of the Hampton Inn by Hilton Waterloo, IA. Cayenne was born and raised in the Cedar Valley and graduated from Waterloo West High in 2010.
Cayenne started out with ChrisBro as a housekeeper in 2012 and fell in love with the hospitality industry and worked her way up to Executive Housekeeper, Assistant General Manager, and eventually became the General Manager in 2022. Cayenne is hands-on and enjoys working alongside her team to keep things moving forward. Cayenne has always set her goals and standards high, in both her professional and personal life. Cayenne's life motto is "NEVER SETTLE." She is determined to achieve the highest standards not only in the Cedar Valley, but for the ChrisBro portfolio as well.
In her free time, Cayenne enjoys spending time with her 3 children, cooking, baking, reading, and traveling as often as she can.