Hotel Management
Jami Battochio
General Manager
Hampton Inn & Suites/Tru Rushmore Rapid City, SD
Jami grew up in rural South Dakota. Currently, she is blessed to call the beautiful Black Hills home with her husband and 3 boys ages 15, 6 and 4. She has worked in different leadership roles in hospitality, gaming, marketing and customer service over the past 15 years. Jami enjoys a fun-loving work culture where familial bonds are created while still ensuring the tasks at hand are accomplished successfully. She is an authentic, passionate and goal driven person.
One of her favorite quotes is "If you don't have time to do it right, when will you have time to do it over?" – John Wooden. She maintains simple beliefs regarding team culture and interactions. Respect all. Treat people how you want to be treated. Show up and support one another while maintaining a positive mindset. Jami would consider her greatest accomplishments being able to see past and present team members grow into strong, thriving leaders in the industry and community after being able to help mentor and support them along the way. "A good teacher is like a candle – it consumes itself to light the way for others."
In what spare time she has in the summer, you will find her at Pactola and outdoors as much as possible. In the winter months she spends time with her family at the ice rinks. If you ask her what goes best with a cup of coffee, she will say another cup. 😊 She is a huge foodie- tacos and a margarita or a steak with red wine can cure most anything.
Cayenne Adams
General Manager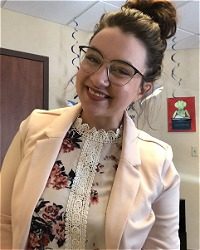 Hampton Inn by Hilton Waterloo, IA
Cayenne Adams is the General Manager of the Hampton Inn by Hilton Waterloo, IA. Cayenne was born and raised in the Cedar Valley and graduated from Waterloo West High in 2010.
Cayenne started out with ChrisBro as a housekeeper in 2012 and fell in love with the hospitality industry and worked her way up to Executive Housekeeper, Assistant General Manager, and eventually became the General Manager in 2022. Cayenne is hands-on and enjoys working alongside her team to keep things moving forward. Cayenne has always set her goals and standards high, in both her professional and personal life. Cayenne's life motto is "NEVER SETTLE." She is determined to achieve the highest standards not only in the Cedar Valley, but for the ChrisBro portfolio as well.
In her free time, Cayenne enjoys spending time with her 3 children, cooking, baking, reading, and traveling as often as she can.